Hall of Fame
Recognizing outstanding Gables alumni who have demonstrated excellence in their fields and have continuously shown the attributes of a Cavalier.
The Gables ​Hall of​ F​ame​ recognizes and honors alumni who have demonstrated excellence in their chosen fields. The ​Hall of Fame​
also recognizes individuals who may not be CGHS graduates but have made significant contributions to the school community.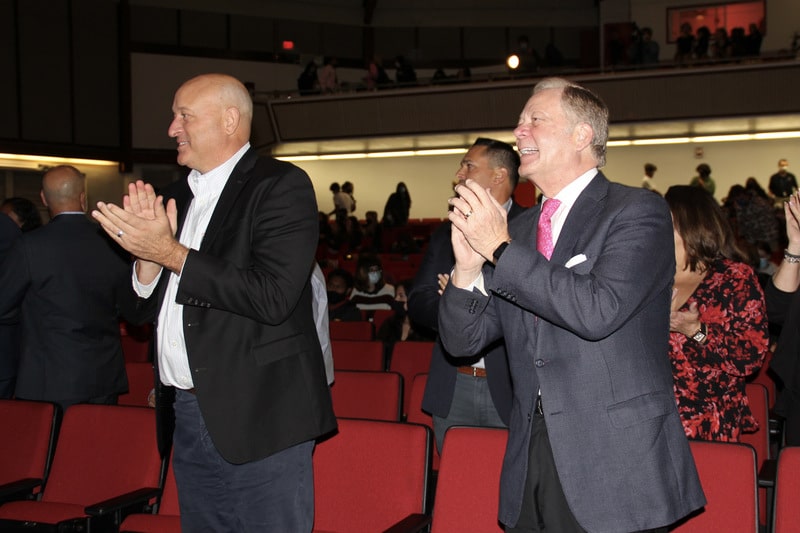 hall of fame reception 2023
Join us on November 3, 2023 for the Coral Gables High, Hall of Fame Lunch 2023! This exciting event will take place at the Coral Gables Woman's Club. Get ready to celebrate the outstanding achievements of our beloved alumni. It's time to honor those who have made a lasting impact on our school and community. The HOF Lunch 2023 promises to be a day filled with laughter, memories, and inspiration. 
hall of fame ceremony 2021
Over the span of its 71 years, Coral Gables Senior High has produced alumni successful in careers ranging from astronauts to artists, broadcasters to business leaders, champions in sports to politicians and publishers. On Friday, November 5, 2021, a ceremony was held in the auditorium in which five alumni were inducted into the Gables Hall of Fame for their contributions to Gables and the community. The Gables tradition was revived by Friends of Gables High 12 years after the last time alumni were inducted into the Hall of Fame.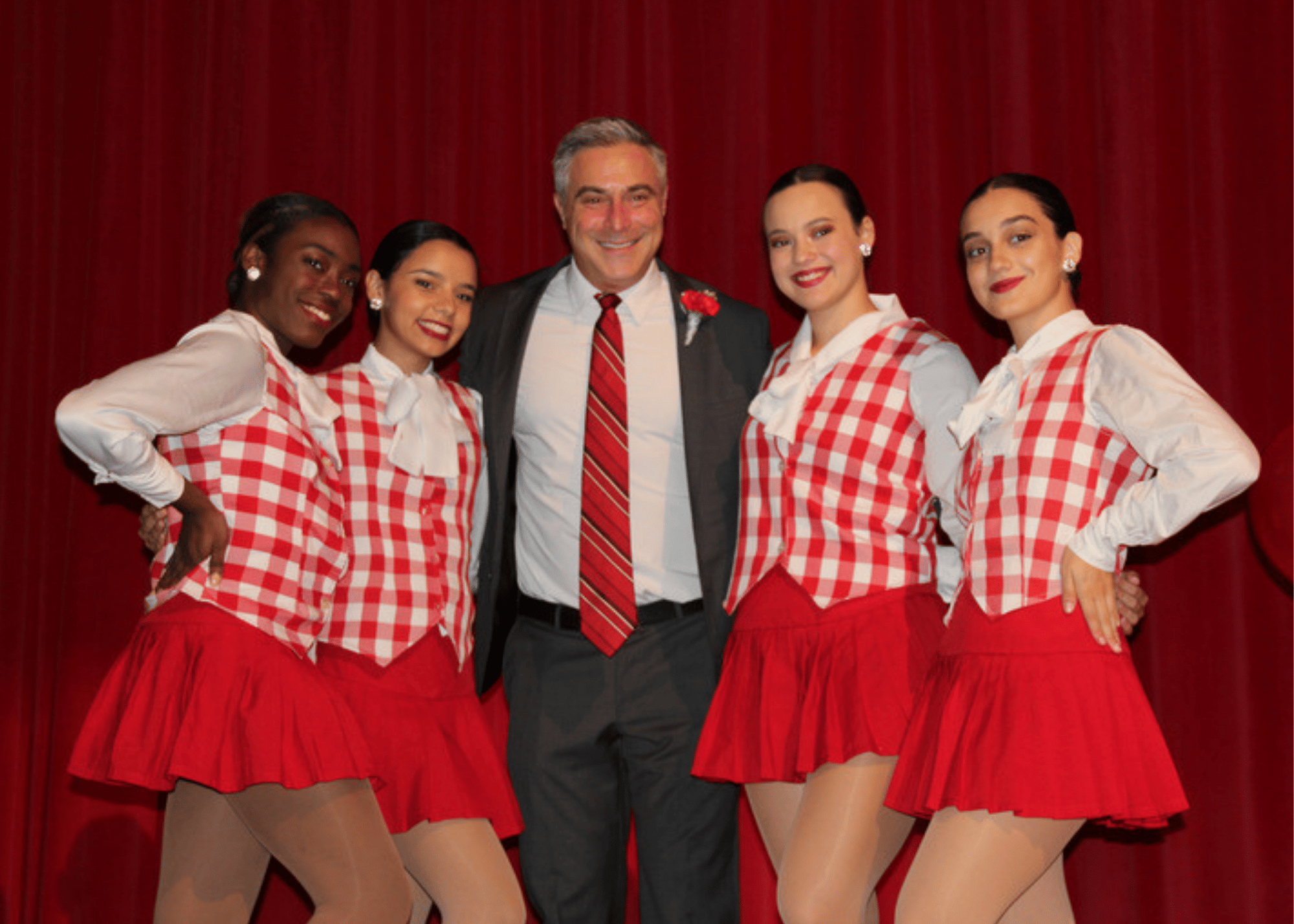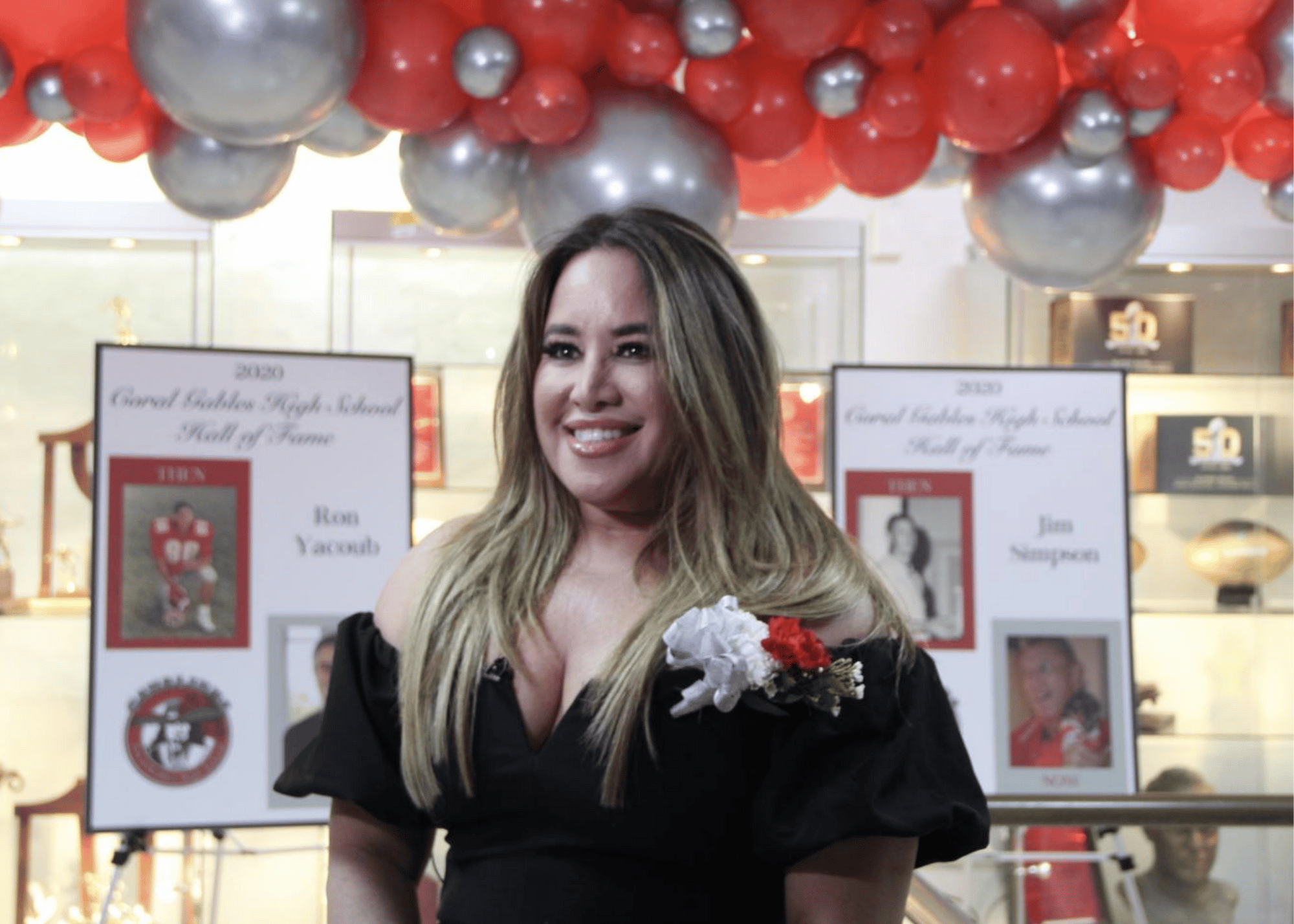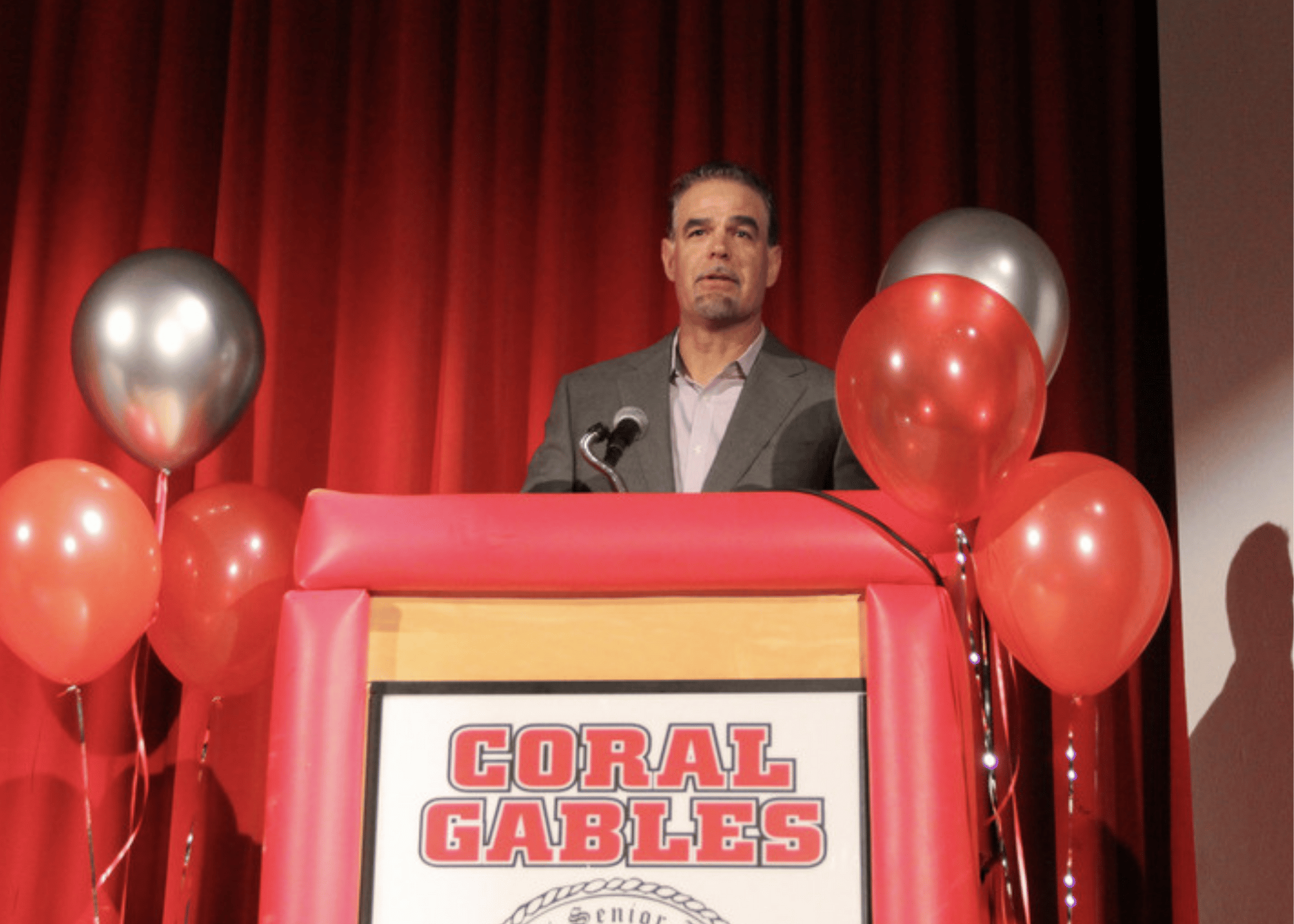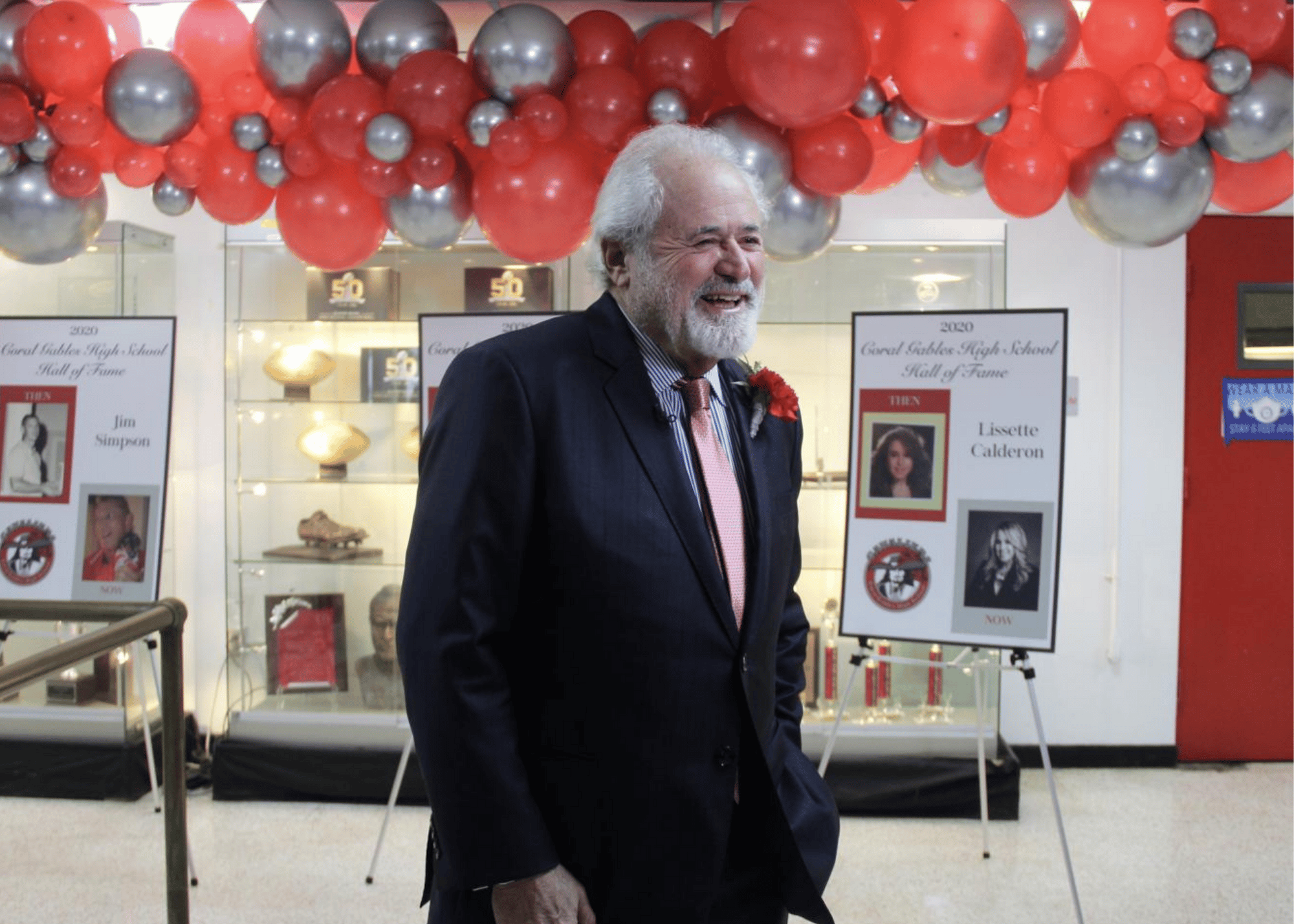 The Gables ​Hall of​ F​ame​ recognizes and honors alumni who have demonstrated excellence in their chosen fields while also continuing the legacy of CGHS by giving back to their community. The ​Hall of Fame​ will also recognize individuals who may not be CGHS graduates but have made significant contributions to the school community. *Nominations for the year 2023 have been closed; however, we will continue to accept nominations for future Hall of Fame inductions.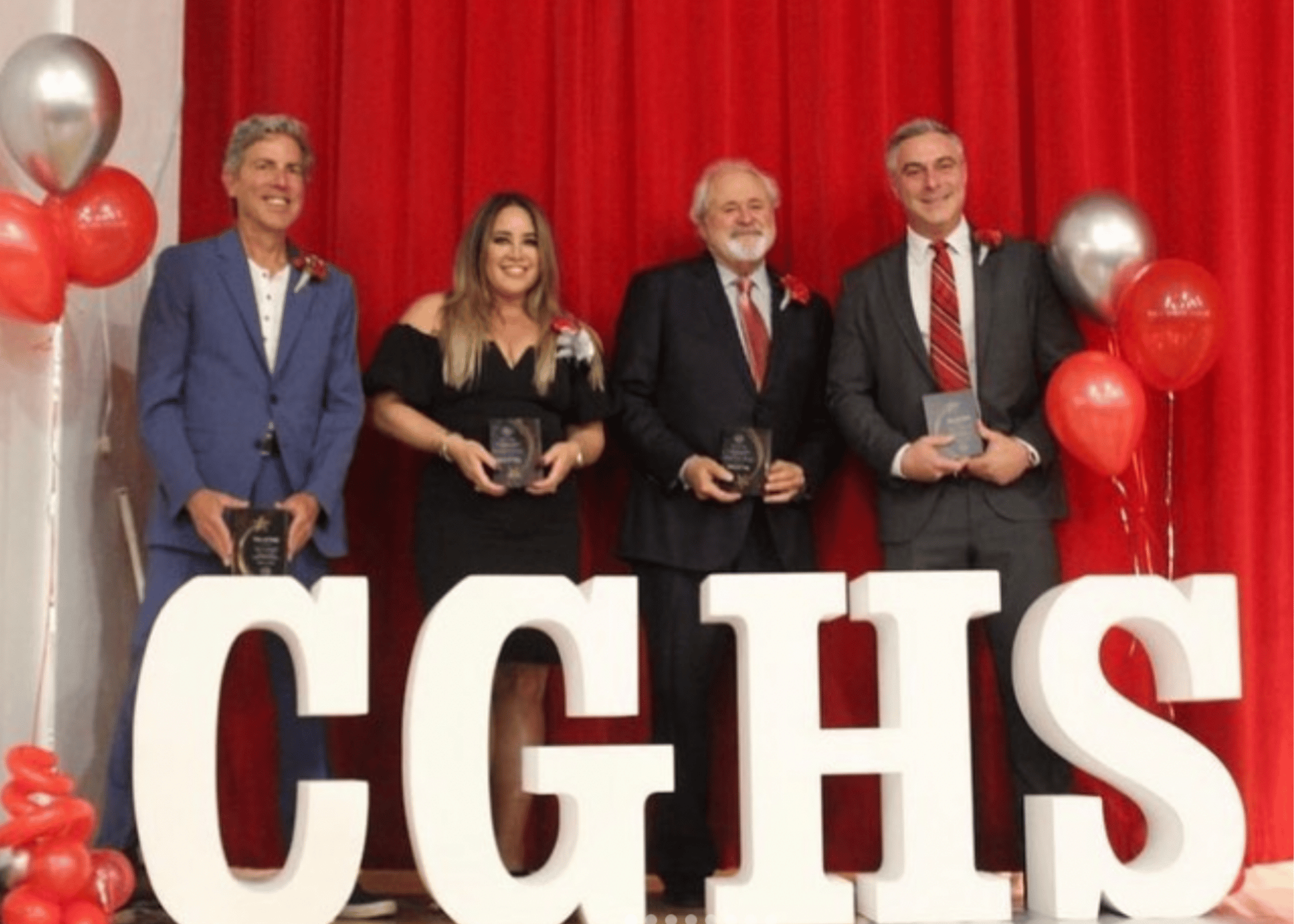 Hall of fame inductees: Non-Alumni
Kotys, Nick: (April 3, 1913 – July 28, 2005) Inducted in 1984, was an American football coach. At Coral Gables High School near Miami, Florida, he built one of the most dominating programs in Florida state history, winning FHSAA state titles in 1963, 1964, 1967 and 1968, and two mythical state championships before the playoff system was begun. Kotys also won four mythical national titles in 1956, 1964, 1967 and 1968. He retired in 1971 after 20 seasons as head coach of the Cavaliers with a 160-33-9 record. 
Moore Jr., Ralph: Inducted in 2004. For 16 years (1977-1993), Ralph Moore was principal of Coral Gables High School.

 

Olkes, Alan T: Inducted in 1996. has a long and distinguished career in education that spans more than 50 years. He was a principal at Coral Gables Senior High from 1972-1977 and was in charge of the music program. In addition to teaching and serving as a principal at the elementary, middle, and high school levels, he held a variety of senior-level positions in the curriculum, technology, and human resources departments of the Miami-Dade County Public Schools.  Alan co-founded Chancellor Academies in 1999. He served in a senior level capacity with Chancellor Beacon Academies and continues to do so with Imagine Schools as Executive Vice President over Texas.
Rath, Harry: Inducted in 1984. First Principal of Gables High (1950-1962). Created the school's logo.
Silva, Vernica: First black Assistant Principal. Who's Who of American Women. Many service awards. Presented in 1993. 
Simpson, Jim: Inducted in 2020. is a Former Gables High Head Coach JV Football Coach and Assistant Coach Varsity. Coach Simpson is the beloved former Gables High Activities Director from 1962-1995, and inspired both athletes and other student leaders alike through his devotion to what Gables High stands for: great academics, leadership, and sportsmanship. 
Ledue, William "Bill": 

Inducted in 1992, Beloved Band Director of CGHS "Band of Distinction." He led generations of students in the pursuit of musical excellence on the field and in the concert hall. More importantly, he instilled in them honorable characteristics that could be applied across a lifetime: Discipline, commitment, preparation, cooperation, camaraderie, grace in victory and defeat, and all the while keeping a sense of humor and having fun. His bands travelled the world. They marched in national parades including the Rose Bowl, Orange Bowl, and the St. Patrick's Day Parade in New York City. Bill received many honors, including ASCAP "Music in Sports award for his work on the Orange Bowl Halftime shows. He was inducted into the Miami-Dade County Music Educators, Florida Music Educators, Coral Gables High School and Florida Bandmaster Association Halls of Fame. Bill was born in Whitinsville, Mass. and served in the Coast Guard Combat Unit in World War II. He passed away on September 2, 2011. He was 89. 

Wilson, Kathie P. (Kathe): Inducted in 2001. Teacher at Gables High for 19 years. Founder of the National German Honor Society. Earned the Cross of Merit from West Germany in 1976. She was responsible for the retirement law change mandate for retirement at age 70.

 
hall of fame inductees: Alumni
Barrow, Henry. (Class of 1954 – Inducted in 1993) A staple on the South Florida airwaves since the early 1960's, Mr. Barrow became an integral part of the Dolphins broadcasts for the better part of three decades. He was there for all five of Miami's Super Bowl visits and gained the trust of one of the most secretive coaches in NFL history, Don Shula. He pioneered the position that is now the standard in any radio or television sports broadcast. He was the first to stand on the sidelines while on the air, reporting on things that had never before been a part of a football broadcast. 
Blecke, Alberta "Berta" Bachelor

(Class of 1968) Dept. of Defense Teacher in Okinawa, Japan. Dir. Of Governor's Constituency for Children in 1986. Many community organizations and awards.

Calderon, Lissette

(Class of 1992 – Inducted in 2020) – Ms. Calderon is the founder of Neology Life, a visionary development company with trendsetting projects along and near the Miami River. She has made extraordinary contributions to the community, focusing on disadvantaged kids and women as a board member of Amigos for Kids and the Sundari Foundation, Inc. Lissette graduated from the University of Pennsylvania Wharton School of Business. At Gables High, some of her many accomplishments included: Senior Class President, Senior of Distinction, Silver Knight Honorable Mention, and Outstanding Senior of Distinction.

Calzada, Humberto

(Class of 1962) – Classical Latin American Artist. 

Carbone, Ralph

(Class of 1956 – Inducted in 1996)

–

Mr. Carbone is a retired decorated Miami Dade County Firefighter, beginning his career in 1963 when it was the Dade County Fire Division with 127 firefighters covering 2,000 square miles of unincorporated territory (Now there are over 3,000 firefighters). He co-founded the University of Miami Jackson Memorial Burn Center, now located inside the Ryder Trauma Center. He spearheaded a fundraising campaign for the Center with firefighters and FPL electrical workers soliciting donations on the streets and raised over $6M in six years and started the Center's endowment fund for research of how best to treat burn wounds and grow skin, and to support the Center overall. He teamed up with Burger King, which funded his development of a computerized robot named Snuffy that he took into schools in Dade and Broward as well as to county fairs on his days off to teach kids the importance of burn safety. He did this for 18 years reaching more than a half million school age children. For his distinguished accomplishments over the years, he has received numerous awards. Among them: The Miami Herald Spirit of Excellence, 1987; University of Miami Awards for Service (The University Founders Society, The Ibis Society, UM School of Medicine "Man of the Year"); Florida American Legion Firefighter of the Year, 1987; Florida Firefighter of the Year, 1985 (Presented by Gov. Bob Graham); The American Burn Association, 1991, for "significant efforts in burn prevention." This was the first time that the North American association of doctors and nurses gave its highest award to someone outside of the medical field. He wrote a history of the Dade County Fire Department that is available in several libraries in Dade County. 

Carlson, Art

(Class of 1967 – Inducted in 1992)– Mr. Carlson is a seven Emmy award winning reporter and video producer who reported local news at WPLG in Miami for 17 years. He is a writer and video producer at Florida Municipal Electric Association and is the owner of Voice Beyond. 

Cepero, Eloy "Bill"

(Class of 1964 – Inducted in 2002)- Mr. Cepero left Cuba with his two brothers with the help of the Methodist Church as part of "Operation Pedro Pan."  He served in the military and is a general partner at Eloy Cepero & Associates in commercial/ mortgage banking. He is the host of radio and television shows.

Clark, Maxine

– (Class of 1966) Ms. Clark is the founder of Build-a-Bear Workshop, a teddy-bear themed retail entertainment experience. In 2008, she was named one of The 25 Most Influential People in Retailing by Chain Store Age. In 2005, Build-a-Bear Workshop Portfolio was named Company of the year by the National Association of Small Business Investment Companies. In 2017, Build-a-Bear Workshop was named to the FORTUNE Best Companies to Work For list for the ninth year in a row. In 2017, Maxine was named to the Missouri Public Affairs Hall of Fame and in 2015 was named one of the Women of the Year by the Greater Missouri Leadership Foundation. She serves on many boards including Footlocker and Gymboree. In 2006, she published her first book, "The Bear Necessities of Business: Building a company with Heart."

Colson, Bill

(Class of 1970) – Mr. Colson was the Managing Editor (1996-2002) of Time Inc.'s Sports Illustrated magazine, stepping down in 2002 after 24-years at the magazine. Under his leadership, Sports Illustrated produced insightful and widely acclaimed sports journalism, including a detailed look at domestic violence by athletes, a cover story on the diminishing number of white athletes and an expose on internet gambling. 

Colson, Dean

(Class of 1970) – Pres. Dade County Bar Assoc. Florida Bar Board of Governors. President of the OB committee 2003. Mayor of Miami's Citizen of the Year Award. Much more.

Colzie, Cornelius "Neil"

(Class of 1971 – Inducted in 1996) (February 28, 1953-August 19, 2001) Mr. Colzie was an American football defensive back for the Oakland Raiders (1975–1978), the Miami Dolphins (1979), and the Tampa Bay Buccaneers (1980–1983). He also played for the Orlando Renegades of the USFL in 1985. He was All American out of high school and played on the Gables national championship football team. 

Decker, Gail Edwards

(Class of 1966 – Inducted in 2001) – Ms. Decker is a retired American actress best known for her roles as Dot Higgins in ABC's

It's a Living

, Sharon Lemure in NBC's

Blossom

, and Vicky Larson in ABC's

Full House

.  In 1970, after graduating from the University of Miami, Cum Laude, Edwards wrote, produced, and starred in the off-Broadway musical

Becoming

. It won the Miami Herald Critics' Choice award three times before the musical debuted in New York. While in New York, she landed the role of "Sandy" opposite Peter Gallagher in Broadway's East Coast tour of

Grease

. 

Del Greco, Albert

Louis "Al"

(Class of 1980 – Inducted in 2001) – Mr. Del Greco is a former American football placekicker for the Tennessee Titans and a current sports radio personality and high school coach in Birmingham, Alabama. Ranked #14 on the NFL's list of all-time leading scorers.

Fox, Roberta

(Class of 1961 – Inducted in 1994) (1943 – 2009) Ms. Fox was a Florida attorney, politician, and feminist. She served as a member of the Florida House of Representatives (1976-1982) and the Florida Senate (1982-1986). During her time in politics, she focused on issues such as family law reform, especially with regard to women's and children's rights.  As an attorney, she successfully litigated landmark cases in employment, personal injury, and family.  She is the recipient of numerous awards and recognitions, including the 1973 One of Ten Outstanding Young Women of America Award; the 1986 Florida Women Lawyers Association's Judge Mattie Belle Davis Award for service; and the 1996 Women of Impact Award.

DECEASED

Grossman, Stuart

(Class of 1964 – Inducted in 2020)

–

Mr. Grossman

is recognized as one of America's pre-eminent trial lawyers. He is co-founder of the Grossman, Roth, Yaffa, Cohen law firm in Coral Gables, and has been recognized by numerous groups for his unparalleled legal advocacy. He has made a lasting impact through his generous support of many civic and charitable causes, including as Chairman of Margaux's Miracle, which funds pediatric cancer research. Stuart was a manager of the Gables High basketball team and on the debate team. He holds both undergraduate and law degrees from the University of Miami.

Kerdyk, Tracy

L.

(Class of 1984) – Ms. Kerdyk is an American professional golfer who played on the LPGA Tour. She played college golf at the University of Miami where she won a record 11 times in 1988. She was a two-time All-American and 1988 NCAA Collegiate Player of the Year. She also played on the 1988 U.S. Curtis Cup team. She played on the LPGA Tour from 1989 to 1999 and won once in 1995. 

Labbie, Dr. Andrew

S.

(Class of 1976 – Inducted in 1996) – Dr. Labbie is board-certified in pediatric urology and urological surgery. He earned his medical degree from Northwestern University Medical School in 1982. He is affiliated with medical facilities such as Baptist Hospital and Jackson Memorial Hospital.

Lenoir, Benjamin William "Bill"

(Class of 1957) (March 14, 1939-August 26, 2010). Mr. Lenoir was an electrical engineer and a NASA astronaut. He was backup science pilot for Skylab 3 and Skylab 4, the second and third manned missions in the Skylab program. During Skylab 4, he was co-leader of the visual observations project and coordinator between the flight crew and the principal investigators for the solar science experiments. Lenoir flew as a Mission Specialist on STS-5 (November 11-16, 1982), the first Space Shuttle flight to deploy commercial Satellites and logged over 122 hours in space. 

DECEASED

Lowell, Mike

(Class of 1992 – Inducted in 2002) Mr. Lowell is a former Major League Baseball third baseman. During a 13-year career, Lowell played for the New York Yankees (1998), Florida Marlins (1999–2005), and the Boston Red Sox (2006–2010).

Martin, Dr. Randolph

(Class of 1961 – Inducted in 2004): Dr. Martin has received numerous awards and recognitions, including becoming a Fellow of the American College of Cardiology and being elected to the "Best Doctors in Atlanta," "Best Doctors in the United States," and "Who's Who." In November of 2004, Dr. Martin was awarded the Howard L. Lewis Lifetime Achievement Award by the American Heart Association for outstanding journalistic contributions. Since 1994, Dr. Martin has been a medical correspondent for Cox Television's ABC affiliate, WSB-TV, where he appears two to three times per week on Channel 2 Action News, and has been awarded multiple broadcast awards, including three Emmy nominations. He lectures extensively throughout the world and has served as the host/moderator and producer of the world's largest professional medical tele-education program, "Echo in Context," which runs annually with nearly 40,000 physicians worldwide tuned in to the program. He is the past president of the American Society of Echocardiography, an organization of 10,000 Cardiovascular Specialists dedicated to the use of Cardiovascular Ultrasound in the diagnosis and management of heart and vascular diseases. He has over 145 publications to his credit in peer-reviewed journals and is recognized as an expert in Echocardiography and Noninvasive Cardiology.

Mayer, Bob

(Class of 1965 – Inducted in 2004) – Mr. Mayer spent a record-setting forty-plus years reporting and anchoring the news on WTVJ NBC6 in South Florida where he started as an intern in 1969. He logged more hours in the field and more hours at the anchor desk than any other South Florida broadcaster. He is the recipient of the Silver Circle Award.

McCabe, Robert

(Class of 1948- Ponce High School, just before Gables opened Inducted in 1988) Mr. McCabe served as Miami Dade College's president from 1980-1995. He left his mark on local and national education in opening the Wolfson Campus in downtown Miami and also opened the Homestead campus. During his 35 years in steering the college, 16 years as president, he led educational reforms, opened several branch centers and revolutionized the way teachers were rewarded by giving pay raises based on classroom performance, not degrees and research. With his outside-the-box ideas for better education, he was able to grow the college into the nation's largest two-year college and helped create what is now the Wolfson Media History Center. When he started at the school it was 80 percent white, non-Hispanic. By the time he retired, the college was 80 percent minority and more than 75-percent of entering freshmen had to take remedial classes. The school reached out to immigrants, multigenerational poor families, older residents and middle-class high school grads to boost attendance. His radical reforms reshaped the school's somewhat lackadaisical approach to education in the freewheeling 1970's. He demanded more of students, structured challenging course schedules and set standards for graduation.

 
Mercado-Valdes, Frank

(Class of 1980 – Inducted in 2002) – Mr. Mercado-Valdes founded a black television syndication, the African Heritage Network, a television sales, distribution, and marketing company. He tells the story of how, as a student, he was alone and intimidated by white students who harassed him on a daily basis, and he gave up trying to compete academically. However, he did become very good with his fists, and by the ninth grade, his fighting skills were so good that he considered a boxing career. Although he did not go on to make a career of boxing, he earned several Florida Golden Glove championships when he was in high school. His grades continued to suffer, and when he finished high school in 1980, he was at the bottom of the graduating class. Mercado-Valdes joined the military, the U.S. Marine Corp, and served a two-year stint. When he was discharged from the Marine Corps in 1982, he enrolled at Miami-Dade Junior College and graduated with an Associate in Arts degree. He subsequently matriculated at the University of Miami, receiving a degree in political science from that institution. While at the University of Miami, Mercado-Valdes began toying with an entrepreneurial idea that would change his life in ways he had never dreamed. He has shared his inspiring story with students at Gables High.

Ortega, Ralph

(Class of 1971 – Inducted in 1992) Mr. Ortega is a former American college and professional football player who was a linebacker in the National Football League (NFL) for six seasons in the 1970s and early 1980s. Ortega played college football for the University of Florida, and thereafter, he played professionally for the Atlanta Falcons and the Miami Dolphins of the NFL. He was All-American out of high school and on the Gables national championship team. 

Pilafian, Sam

(Class of 1967 – Inducted in 2001) Mr. Pilafian was an American tuba player. He was active in the jazz scene, having played with the Duke Ellington Orchestra, among other notable artists. Performed with Leonard Bernstein at the opening of the Kennedy Center in Washington, DC. Also performed in the NY Philharmonic, NY Opera Orchestra, Boston Symphony, Boston Pops Orchestra. Once considered to be the best premier tuba player in the world.

Reno, Janet

(Class of 1956 – Inducted in 1988) (July 21, 1938 – November 7, 2016)- Ms. Reno was Former Attorney General of the United States (1993–2001). She was nominated by President Bill Clinton on February 11, 1993, and confirmed on March 11. She was the first female Attorney General and the second longest serving Attorney General after William Wirt. Janet was captain of the debate team in high school. 

Rodrigues, Beverly Counts

(Class of 1971)- Ms. Rodrigues was a news anchor/reporter for WFOR CBS 4. She was one of the Gables' first black graduates along with fellow Hall of Fame Inductee, Frank Mercado-Valdes. She went on to be a Public Information Officer for the Florida Department of Children and Families, District 11, and then the Community Relations Manager for The Miami Herald where she initiated and implemented The Herald's Black History Month Special Section, which continues today as a vital community service. She is currently the President and CEO of BCR and Associates of South Florida Inc., a marketing company.

Sadowski, William

(Class of 1962 – Inducted in 1988)- Mr. Sadowski was Managing Director, Head of Municipal Underwriting Syndicate Desk for Loop Capital. Prior to joining Loop Capital, he spent over two decades at PaineWebber as Manager of their Municipal Underwriting Department. He also held senior positions at Cowen and Reinoso & Co. and John Nuveen and Company, where he was Manager of the Bond Department.

DECEASED

Scott, Winston E.

(Class of 1968)- Mr. Scott was the astronaut who launched Endeavour (January 11-20, 1996) on a 9-day flight during which the crew retrieved the Space Flyer Unit satellite (launched from Japan 10-months earlier), deployed and retrieved the OAST-Flyer satellite, and conducted two spacewalks. He was also part of the Navy for many years. He became the executive director of the Florida Space Authority and in September 2006 he became Vice President and Deputy General Manager of the engineering and science contract group for Jacobs Engineering in Houston, Texas. He is a retired U.S. Navy Captain. Wife is Marilyn. Phone: 713-560-4662 email:jazzairllc@gmail.com Address: 1437 Pineapple Avenue, #506, Melbourne, FL 32935

Sekoff, Roy

(Class of 1977 – Inducted in 2020) – Mr. Sekoff was the Founding Editor of the Huffington Post and President and co-creator of HuffPost Live. His book of humorous essays, "Lacks Self-Control," has won multiple writing and publishing awards. Earlier in his career, he was a writer and on-air correspondent for Michael Moore's Emmy-winning "TV Nation." At Gables High, he was President of Thespians Drama Club, a Senior of Distinction, a Silver Knight nominee, and played leading roles in Barefoot in the Park and Pinocchio. Roy is a graduate of the University of Miami.

Verneka S. Silva

– First black female Assistant Principal, CGHS. Who's Who of American Women. Many service awards. Presented in 1993.

Silver, Jeffrey

(Class of 1973 – Inducted in 2004) – Mr. Silver has produced over 30 feature films through his production company, Biscayne Pictures. He is currently working on a remake of "The Little Mermaid" (Disney) directed by Rob Marshall. His most recent release was the photo-real re-imaging of "The Lion King" (Disney). Other recent releases include the epic fairy-tale "Beauty and the Beast (Disney). He also produced the sci-fi actioner, "Edge of Tomorrow" (Warners), and "Tron: Legacy." (Disney),"Training Day," (Warners) and the "Santa Clause." (Disney). He won an Emmy as producer of the hit television series, "The Wonder Years."

Stokes, Roberta Boyce

(Class of 1957)- Ms. Stokes is on the Orange Bowl committee and was an Honoree for the ITCOX Pioneer Award in 1992. She is a longtime community leader and champion of fitness, physical education and girls sports. She is a Professor Emeritus at Miami-Dade College, where she once served as Associate Dean and Athletic Director. Ms. Stokes a member of the Baptist Health Board of Trustees and the Doctors Hospital Board of Directors, and has been elected chair of the Board of Directors for Baptist Outpatient Services. 

Sutton, Rear Admiral Robert

"Bobby"

(Class of 1959 – Inducted in 2004)- Admiral Sutton served as a Surface Warfare Officer for 34 years, serving on seven ships and commanding two of them. He was a commander in the US Navy and served in the Persian Gulf and received the Bronze Star with Combat "V" for service with the Naval Advisory Group in Vietnam. His commands included USS MITSCHER (DDG-35), USS PREBLE (DDG-46), USS THOMAS S. GATES (CG-51), NAVAL FORCES CENTRAL COMMAND (Pearl Harbor), Naval Logistics Support Force (Bahrain), Training Command Atlantic Fleet, and Naval Ordnance Center.  

Tinker, Gerald

(Class of 1969 – Inducted in 1984) – Mr. Tinker is a former American athlete and American football player, winner of gold medal in the 4 x 100 meters relay at the 1972 Summer Olympics. After the Olympics, Tinker was drafted by the Atlanta Falcons in the 2nd round (44th overall) of the 1974 NFL Draft as wide receiver. He played for the Falcons (1974–1975) and the Green Bay Packers (1975). 

Dianne Edwards Thorington

(Class of 1966) – Taught at Gables High, UM, U of Montana, and Cypress College, CA. Associate TV Producer, Paramount Studios (Family Ties, American Dreamer, Art of Being Nick). Performed Coconet Grove Playhouse, and Miami Beach Theatre of Performing Arts.

Ventulett II, Thomas

(Class of 1953 – Inducted in 2004)- One of the founding principles of Thompson, Ventulett Stainback & Associates, Inc., Tom Ventulett is Chairman Emeritus of the Board of Directors. Since the firm's inception in 1968, TVS has been honored with over 200 design awards including a National AIA Honor Award for McCormick Place in Chicago and Honor Award – Urban Design for the Pennsylvania Convention Center in Philadelphia.

Winston, George

(Class of 1967)- Mr. Winston is an American musician and pianist who has inspired fans and musicians alike with his singular solo acoustic piano songs for more than 40 years while selling 15 million albums. He was first recorded by John Fahey for Fahey's Takoma Records. Winston's 2002 album Night Divides the Day – The Music of the Doors took the music of the 1960s band The Doors and transformed it into solo pianos. Since 1980, he has released ten solo piano albums including, AUTUMN, WINTER INTO SPRING, DECEMBER, SUMMER, FOREST, LINUS & LUCY – THE MUSIC OF VIINCE GUARALDI, and PLAINS. He is a household name and one of the foremost instrumental composers of our time. 

Wolin, John

(Class of 1965 – Inducted in 2001) – Mr. Wolin was a reporter and editor at the Miami Herald for 21 years. He was born an achondroplasia dwarf, a degenerative condition he chronicled in a memorable 1991 article for the Sunday Tropic magazine as he prepared for a risky spinal-cord operation to preserve the use of his arms. The piece, entitled

Walking Tall,

drew hundreds of cards and letters and showcased the gifts that made Wolin a master of making other writers better, as well as his blend of sharp humor and sharper clarity. During his years at The Herald, Wolin lost the use of one leg, then the other, yet kept coming to work, hobbling along on braces and canes at first, then getting around on an electric scooter. He was passionate about his work.  A scholarship was created in his memory for aspiring journalists. 

Woodward, William "Woody"

(Class of 1960 – Inducted in 1988) Mr. Woodward is a retired player and general manager in Major League Baseball. Woodward played college baseball for the Florida State University Seminoles. He played for the Milwaukee/Atlanta Braves (1963–1968) and the Cincinnati Reds (1968–1971). A shortstop and second baseman, Woodward appeared in 880 games played, garnering 517 hits. He hit for a .236 batting average with one home run and 148 runs batted in.

Yacoub, Ron

(Class of 1992 – Inducted in 2020) –

Mr. Yacoub

is the founder of Pinecrest Physical Therapy, a highly successful company that has expanded throughout South Florida and into the Dominican Republic. His passion is to help his patients return to an active lifestyle. Ron regularly and generously supports Gables High and Gables High athletes. Ron obtained his Masters in Physical Therapy and a B.S. in Biology from the University of Miami. He was a Gables High Senior of Distinction and student athlete on the JV and Varsity football teams.

Zweig, Martin E.

(Class of 1960 – Inducted in 2001)- Mr. Zweig is an American stock investor, investment advisor, and financial analyst. He is, according to Forbes Magazine renowned for his eccentric and lavish lifestyle" as well having the most expensive residence in the United States. It was listed on the New York City real estate market a few years ago for $70 million. His particular investing methodology is based on selecting growth stocks that also have certain value characteristics, through a system that uses both fundamental analysis and market timing. He predicted the stock market crash the Friday before the 1987 crash. 

Zwilch, Ellen Taaffe

(Class of 1956 – Inducted in 1984)) – Ms. Zwilch is an American composer, and the first female composer to win the Pulitzer Prize for Music. Among her many recognitions are the Elizabeth Sprague Coolidge Chamber Music Prize, the Arturo Toscanini Music Critics Award, the Ernst von Dohnányi Citation, an Academy Award from the American Academy of Arts and Letters, a Guggenheim Fellowship, 4 Grammy nominations, the Alfred I. Dupont Award, Miami Performing Arts Center Award, the Medaglia d'oro in the J.B. Viotti Competition, and the NPR and WNYC Gotham Award for her contributions to the musical life of New York City. Ms. Zwilich is in the Florida Artists Hall of Fame.